With honor and sincere congratulations to Cole Benedict for 500 hours of volunteer service to the East Hampton Food Pantry. As far back as we can remember, after school, this fine young man with character and determination would arrive at our pantry, rain, shine, or snow, he was there with a big grin and ready to put his heart and soul to help others for a better day. For he as an individual is part of the cure for hunger, thank you, Cole.
Cole has given us the inspiration to honor people like him and to continue each year to present an individual with the volunteer of the year award. Not an easy task for the board of directors, for there are many alike who give their hearts and their very souls in sharing their time and talents to give to others. No matter what the cause, volunteers are the real heroes of the human spirit.
A perpetual plaque with the names of these outstanding volunteers can be viewed at the East Hampton High School.
Here is a photo of Board director Marguerite Davidowicz, Cole Benedict, and food pantry chairman, Vicki Litman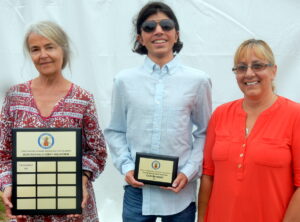 "WE DON'T NEED RESEARCHERS NOR SCIENTISTS TO FIND A CURE FOR HUNGER,
THE SIMPLE CURE IS YOU"